SITAG G02 - Getting new ideas
Does an office have to look like one? Of course not.
SITAG G02 - Practical, robust and versatile on the one hand, pleasant, light and beautiful on the other. It's one the move, just like we are. The chairs in the SITAG G02 range can do everything. Thanks to its virtually disarming versatility, SITAG G02 cuts a good figure simply everywhere.
DESIGN: Carmen & Urs Greutmann
Together, they completed their study at the University of Art and Design in Zurich between 1980 and 1984. Carmen Greutmann-Bolzern graduated as an interior designer, Urs Greutmann as an industrial designer. With support of a five-headed team, Carmen and Urs Greutmann plan and create in all areas of design till this day. The work of that successful team is characterized by clarity of forms and materials. The main activity of the design studio is the world of offices, from the partition on the light to corporate identity. Since 1999, they also design for the research and development department of SITAG, from where the pioneering chair line G02 comes.
Castors
Castors with load-controlled braking. Material: polyamide (recyclable), non-chalking. Load-support limit: 50 kg per double castor. Standard version with hard castors for carpets; if requested, with soft castors for wood and synthetic floors.
Base
Pressure-diecast aluminium (recyclable); static load-bearing capacity > 1.400 kg. The diameter of the base satisfies design guidelines for chair dimensions to prevent the chair from tipping over.
Height adjustment
With safety gas spring for comfortable spring cushioning. The gas spring supports no lateral forces. The seat support and the gas spring are not rigidly connected to each other.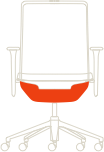 Mechanical system
With height adjustment. Material: supporting parts made of pressure-diecast aluminium (recyclable).
Seating surface
The seating surface is available with or without seat upholstery.
Foam
Cold-moulded foam on upholstery support. Contains no chlorofluorohydrocarbons (CFC). The foam is fire-resistant in accordance with DIN 75200.
Upholstery
The cover material is spot-glued onto breathable, open-pore, moulded foam: which assures breath-ability and vapour permeability. The high-quality upholstery assures that no build-up of heat can take place in the chair. Exchangeable seat cushion. Optionally with backrest cushion.
Synthetic materials
The synthetic materials are especially marked and can be recycled. The paints used do not contain heavy metals.
Conformity with standards
Swivel-chair program in accordance with DIN EN 1335.
BF24
bright brown
BF34
bright green
BF36
opal
BF40
dark green
BF50
cognac
BF55
orange
BF60
red
BF70
light grey
BF75
grey
BF77
dark grey
BF81
bright blue
BF82
dark blue
BF85
black
CO00
white
CO25
medium brown
CO28
brown
CO34
bright green
CO55
orange
CO60
red
CO62
bordeaux
CO70
bright grey
CO77
anthracite
CO80
blue
CO82
dark blue
CO85
black
DC30
dark brown (imitation leather)
DC61
red (imitation leather)
DC77
anthracite (imitation leather)
DC82
dark blue (imitation leather)
DC85
black (imitation leather)
EX02
white
EX24
bright brown
EX34
bright green
EX37
petrol
EX52
yellow
EX54
bright orange
EX63
violet
EX65
mauve
EX75
grey
EX77
anthracite
EX80
blue
EX82
royal blue
EX83
dark blue
EX85
black
FA34
bright green
FA50
cognac
FA55
orange
FA60
red
FA71
mouse grey
FA75
dark grey
FA80
blue
FA82
dark blue
FA85
black
FL00
beige
FL34
bright green
FL37
petrol
FL50
cognac
FL55
orange
FL60
red
FL70
light grey
FL75
dark grey
FL80
blue
FL82
dark blue
FL85
black
ME00
beige
ME02
brownish grey
ME24
bright brown
ME30
dark brown
ME34
bright green
ME35
green
ME38
turquoise
ME55
orange
ME60
red
ME70
light grey
ME77
dark grey
ME80
blue
ME84
bright blue
ME85
black
OM02
white
OM72
bright grey
OM77
anthracite
OM85
black
LS02
white
LS09
sandy
LS30
mocha
LS50
cognac
LS60
red
LS85
black
LS82
navy blue
LS72
grey
SI30
brown
SI31
dotted brown
SI64
dark red
SI65
dotted dark red
SI70
pearl grey
SI71
dotted pearl grey
SI80
blue
SI82
dotted blue
SI85
black
SI86
dotted black
SW
black
AM
metallic anthracite
SI
silver
PW
pearl white
CR
chrome-finish
PO
polished (base & backrest)
PW
SW